If you have even just fleetingly glanced at Instagram in the last year, you can't have missed the stories clambering for attention at the top of the feed. Introduced in August 2017 and borrowing heavily from Snapchat's winning formula, stories are images or videos shared with all your followers with the catch that they last just 24 hours before disappearing. They often include text, locations, hashtags, filters, GIFs and more.
Brands have wasted no time latching onto the feature to promote their business – and to huge success. They generate higher engagement and are a perfect tool for showcasing your brand's personality (the most important thing to use your social media for in case you haven't heard me say yet.) If you haven't started using stories yet, waste no time in making them part of your social media strategy today.
Why Are They So Popular?
The feature has been so successful that it has fast overtaken Snapchat's version, the originator of the concept. They now have 250 million daily active users to Snapchat's 166 million.
So, what do stories provide users that they can't get from a regular feed? Well, most importantly, it's humanising your brand and you have the opportunity to show the behind-the-scenes of your company. Images and videos that might not be quite right for your feed, either because the aesthetic is not right, or it does not fit your tone, can be put in the stories. They allow you to break from the often sales-aimed content on your feed and show something a bit more personal and relaxed. I always say, people connect with people, not brands.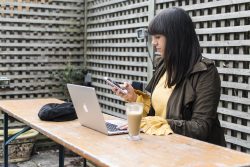 What Makes a Good Story?
What goes into making a good story? Here are a few of my best tips for getting across your brand and personality succinctly and naturally:
• Keeping your stories consistent.
• Keep to your branding / personality, i.e. fonts / colours / tone of voice.
• Ask questions, try and welcome engagement (polls).
• Mix up the content with images, boomerangs & videos.
• Tie in stories with your feed.
• Mention your feed in stories, mention stories in your feed. Try and direct people to both.
• Always use # & location as a much broader audience sees the posts.
• Try and collaborate – mention other users in the hope they'll shout you back.
• Talk to the camera.
• Be real.
• Show people behind the scenes.
As their popularity soars more and more by the day, stories are becoming a trend you can't afford to not get on board with. Drop me an email or a DM if you need more advice and let me know how it goes!