Social media has changed our lives as we know it, so it's hardly surprising that it has impacted many big occasions, namely Halloween. Halloween has been a huge hit in America for yonks, but it's taken visual social media networks like Instagram and Pinterest to force us to up our game. Halloween has since exploded into a global, annual celebration for people of all ages.
Costumes
Content is all around, so there's no excuse to be dressing as a humdrum witch each time, with sites like Instagram and Pinterest churning out original ideas every year and also with the rise of Halloween make up tutorial videos.
Take a look at Heidi Klum's inventive and down-right mesmerizing Halloween costumes over the years:
http://www.cosmopolitan.com/style-beauty/fashion/g6946068/heidi-klum-halloween-costumes/
Get a step by step tutorial to some truly undeniably authentic looking make-up ideas:
https://www.youtube.com/watch?v=npFbx6MtF8c
Social media has made everyone a show off
Because of social media, you can't recycle that trusty witch outfit every year anymore. Why? Because you already tweeted about it of course! New, ingenious looks are simply essential every year now.
Everyone has also upped their pumpkin carving game (myself included – photo evidence shown below) to keep up with the growing social trend.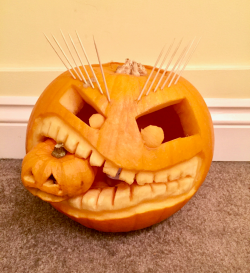 Halloween is here to stay
Halloween decorations are now seen as an investment, seeing as we are sure to need them year after year the year. This is where brands like styleboxe https://www.styleboxe.com/table-decorations/seasons-and-events/halloween/ come in handy. They have already hand picked decorations to create a Pinterest style look that you've always wanted to create but just didn't have the time for. The whole set is also delivered in a handy 'styleboxe'.
As Erik Qualman said 'Increasingly, consumers don't search for products and services. Rather, services come to their attention via Social Media'. So, the fact that we are endorsing brands unknowingly with user-generated content is contributing to the meteoric rise of Halloween. We connect more with authenticity and what is more authentic than genuine users sharing real life moments, hence the rise of the Influencer, but that's a whole different blog post (yet to come).
Ironically, social media makes people less social. This however has luckily not applied to Halloween and it's now an occasion to be spent with friends and family, as well as receiving instant responses from people all around the world appreciating your innovative look on Instagram.