If you're anything like me, you'll have been pretty surprised to hear the recent news that Lush UK has quit social media. This is a move that effectively marks the end of them filling your Instagram feed with satisfying clips of bath bombs melting into astonishing displays of colour. If you remember a few months back, another UK chain, Wetherspoons, also announced that they would be doing the same, blaming the bad publicity surrounding social media.
On the one hand, it does make some sense. With all the Facebook drama of the last year and the very valid fears over the security of our personal information, social media has had a hard time in the news recently. So, you'd be forgiven for worrying a bit about the future of some of our favourite social channels.
But – as someone who's put more than her fair share of hours into social media ­– trust me, it's only getting started. And leaving social media right now would be a BIG mistake.
Why did they quit?
Lush, best known for their delicious-smelling soap and for first creating the humble bath bomb 30 years ago, made the sudden announcement that they were saying goodbye to social on 8th April, leaving behind their 570k Instagram, 200k Twitter and 400k Facebook followers. It was a real surprise given that the company has been particularly vocal with its community on Instagram and Twitter, from openly championing women's rights to supporting a plastic ban.
However, Lush say that they made the decision in order to promote this very community.
"Increasingly, social media is making it harder and harder for us to talk to each other directly," they explained in a statement published on Instagram. "We are tired of fighting with algorithms, and we do not want to pay to appear in your newsfeed. So we've decided it's time to bid farewell to some of our social channels and open up the conversation between you and us instead."
Have a look at their full statement here: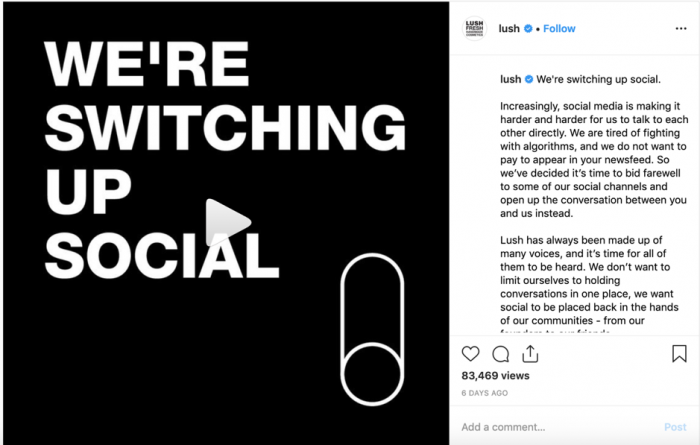 Instead, the company told us they are returning to a more traditional way of connecting with customers through phone and email before signing off with their hashtag #LushCommunity, a hashtag intended to "carry on the conversation".
What a shame?
To an extent, I can see some of their thinking. After all, the delectable smell that emanates from every Lush shop is the best marketing possible, right?
Well, yes, but even the glorious floral-yet-fruity scents that waft through most London train stations are no match for the awareness social media raises. And you'd have to live pretty close to a shop to be reminded of their presence that regularly.
What does raise awareness of a brand is seeing them, and often, a constant reminder that only regular posting on social media can offer.
Simply put: Visuals matter. A lot.
You've probably heard me talk a lot about branding and the importance of great photography. That's because visuals are so appealing to consumers today. And the thing that's such a shame for me is that Lush is exactly the kind of brand that 100% belongs on social media, purely because of how Instagram-worthy their products are. Just look at this flat lay: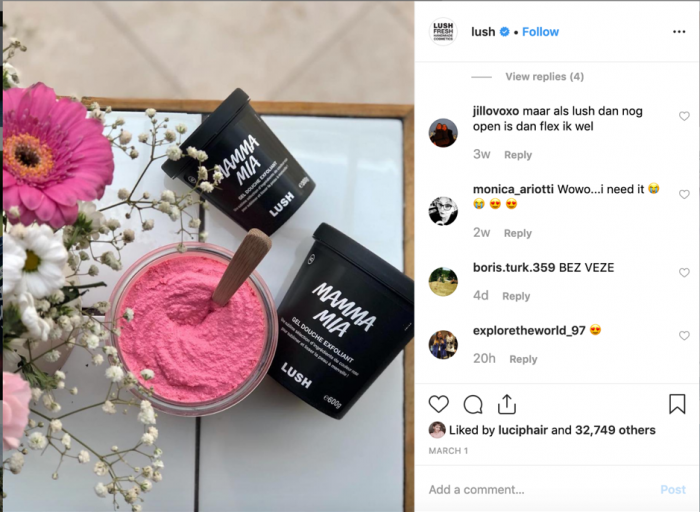 Is it weird that I kind of want to eat an exfoliant right now…
These are the stunning arrangements that attracted A LOT of attention on people's news feeds. During a cursory scroll through their still-active Instagram I found a load of posts with over 70k likes – levels of engagement that most brands would die for.
It's exactly this engagement that the company is going to miss out on, and what makes the decision to leave such a huge mistake. Lush has left social in an attempt to have what I'm guessing they consider to be more 'authentic' engagements with its customers. But even with their hashtag still on the go, they have still effectively chosen to step out of their own conversation.
Whatever your feelings about the authenticity of social media are, the fact is that nine out of ten millennials state that social media availability affects their decision to go with a certain brand, so Lush are likely to see declining sales as a result of their decision. My concerns aren't unfounded, Social Chain have since found that there has been a 365% increase in negative sentiment towards the brand since it made the announcement.
But the main reason this decision is such a big misstep is that Lush use their social media to promote SUCH GOOD WORK.
They are a very progressive, very ethical brand. They boast a completely vegetarian product range and fight animal testing, they work towards sustainability and actively support a number of fantastic initiatives championing social good. My fear is that without their social accounts spreading the word of what they are doing to make the world a better place, awareness will drop massively, along with sales, forcing them to cut back on their charitable goals.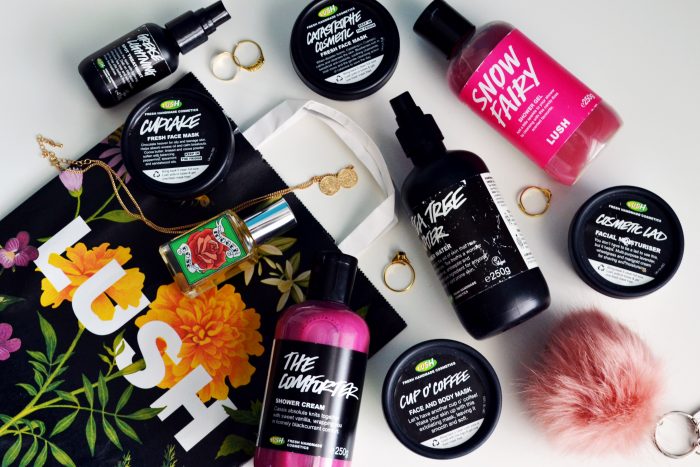 Now let me convince you to stay…
Now, I'm a big lover of social media and so obviously I'm biased, but I can't stress enough how much of a mistake it would be to follow Lush's path. Social media is the best way for you to reach your audience directly and hone your brand. No other form of marketing allows for such personalised engagement, which is exactly what today's audience are hungry for.
And if my words aren't enough, check out a few compelling statistics:
– There are currently 3.484 billion social media users – that's almost 3.5 billion potential customers
– It's particularly popular for reaching young people. 49% of people in the 18-29 age range report purchasing something after seeing a social media ad for it. Furthermore, 77% of millennials report making a purchase either online or in-store after seeing a product on Facebook (Lyfe Marketing)
– More than 1 in 3 internet users say they go to social networks when looking for more information about a brand or product (Global Web Index)
– It's completely FREE
While they've made this shocking announcement with a clear resolve, my money's still on Lush coming back to social pretty soon. I expect their decision to leave will be met by a swift drop in sales and almost definitely a lack of awareness about the social good they are doing. So, if you too want to "open up the conversation" with your audience, start by putting more time into authentically engaging with them. Because today, social media is where those conversations start.