Most people are content working for someone else. That was just never me. Throughout my working life, I have had a whole range of different jobs. Most of these I have enjoyed, but never felt truly passionate about. So why did I stay in those jobs for so long? When I look back I really think it was a concoction of comfort mixed with fear & apprehension. You feel safe and cushioned knowing you are employed and as long as you're doing a good enough job, you have a steady income. The idea of going after what you want and taking a risk feels too alien and unattainable to comprehend. Thoughts that come to mind are 'I'll be embarrassed if I fail', 'I don't even know where to begin', 'I feel like a fake & that I don't have the know how', 'this journey was made for others but not for me'. I'm pretty sure everyone going down this route has the exact same thoughts & feelings. Trust me, you're not alone. Now it's about overcoming that way of thinking.
So, I basically decided I didn't want to be just good enough anymore. I wanted to be better & to push myself to the limit, because to me that is what it's all about. I quit my job, having zero clients lined up but with a fire in my tummy. Probably best to mention that it was AFTER I quit my job, with no real idea of the direction I was about to go in, that I discovered I also had something else in my tummy – a baby!
Running my own business is the scariest thing I've ever done, especially now that I know there's someone else in the equation, but this is definitely the most alive and in control I've ever felt.
How to start the process
Tell people
Make sure that at least a few people know about your potential venture and can therefore be accountable. This was the turning point for me, because as soon as it's out there, there's really no turning back. Another great thing about telling people is that you're bound to get support & encouragement, along with ideas & inspiration!
Research
This is SO important and will be different for each person, dependent on the industry you're in. For me it was crucial that I found out who my competition was, how they operated and the type of packages they were offering. Next I needed to decide what my target audience would be as you really must have a focus and goal in order to achieve it. http://bit.ly/2mWXJss
Make a plan
Luckily, I am a massive fan of lists and organisation, so I was good to go here but make sure you get your ducks in a row early on. Getting your goals, ideas and plan down in writing is the best thing to do in my opinion. Here's the business plan template I used, which I found more straight forward & user friendly than most. http://bit.ly/2xmeHSP
Get a mentor or business coach
My good friend Rhian http://www.rhiansutcliffe.com/ had recently become a freelance community artist and found the guidance from her business coach invaluable. I contacted Neil upon her suggestion who has since been a great help to me also. Neil is an ERDF Business Advisor (Enterprise Steps/Building Legacies) for Newham College and the scheme is fully funded so for you and me is actually free! Get in touch and let him know I referred you. http://bit.ly/2xXM8iW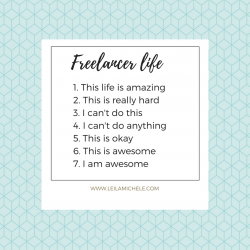 Once you're getting there
Get on social media
Choose which platforms are suitable for your business and start working on your strategy. Create a blog if you feel it's appropriate as this is a great way of driving traffic to your website. http://bit.ly/2uO6fiA
Find customers / clients
The first and most obvious thought is people you already know. Most of my initial clients came from word of mouth. Don't be afraid to get in touch with people to let them know you're planning to go freelance, and asking if they may have any projects you can help out on.
Get networking
It's so important to put yourself out there and mostly when it comes to running your own business, learning how to network is unavoidable. Make connections at face-to-face events like BNI (here's one I've attended http://bit.ly/2wB336N) or join in with Twitter chats like #soulfulpr. P.s. by this stage, make sure you have your elevator pitch down!
I really hope this has been of some assistance to you and I truly wish you all the best with your venture. I so wish I'd had more people to talk to for advice during the lead up to going self-employed, so please feel free to get in touch if you want to chat over coffee.
My main tip for starting on this amazing adventure is to surround yourself with like-minded people and always remember, what is the worst that can happen?
If this has been at all useful to you, please do share it with your audiences, I would really appreciate it.