I always say that, as a small business, you've been immediately handed this fantastic opportunity to use social media to show off your unique personality. Personality is exactly what appeals to customers who use and return to small companies.
And as users grow ever more suspicious of direct advertising, coming across real and personable on social media is so important to gain brand trust and loyalty. 79% of millennials and 84% of other generations prefer to use brands that let their personalities shine through on Facebook, to name just one social media channel.
Instagram alone has about 25 million business profiles and most of those 25 million profiles fail to get their branding right across through their social media and fail to get the attention they deserve. This is such a wasted opportunity for connecting with potential customers.
Standing out isn't easy, but it's key to your small businesses success.
How can you ensure you are using social media to brand effectively so your personality is always coming through? Here are my five best tips for making social media work for your brand:
Pick the right social media channel
A scattergun approach on social media is never effective.
Putting your business on every social media channel will likely not provide the results you need, it will probably just waste resources that would be better spent elsewhere. Instead, I'd advise you focus your energy on one to two social media channels at the beginning stages and then possibly two to three at a later date should you have the capacity.
While, on the face of it, they may seem similar, each social media channel has its own purpose and is for something different, with a different tone. Some of these channels might be completely wrong for your brand.
For example, if you are a boutique jewellery shop then Instagram and Pinterest are probably the perfect place for you. This is because they are very image-focused channels that you can fill up with beautiful shots of your product for #inspo posts. Plus people are actively searching for you on this platform.
By contrast, if you're a company providing financial advice to other businesses, LinkedIn would be a perfect medium because posts on the site are business-focused and it generally contains B2B content.
So, do your research and have a think about what channels will work best for you.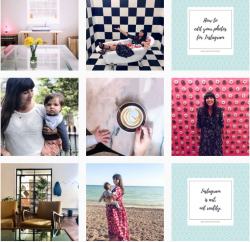 Pick your colour palette
You may have noticed that my social media, and in particular my Instagram feed, pretty heavily feature the colour turquoise. I do this so when people see my feed they instantly know it's mine and know a bit about my branding and personality straight off the bat.
Picking a colour palette is really important as it makes your social media feeds look uniform, professional and aesthetic. Most importantly, it also looks like YOU.
I'd advise that you pick a colour that features regularly on your website or perhaps your logo then ensure you are featuring relevant images that use that colour on your feed (I'm regularly stopping randomly in the middle of sidewalks and sentences to take a photo of a turquoise house, or flower, or coffee cup…)
Often with clients, as I have done on my own feed, I create a graphic using the colour palette to convey relevant quotes and facts. This is an easy way to ensure your colour palette catches the eye immediately.
Don't forget to brand your photos
Uniformity in the imagery of your feed doesn't stop with simply using a consistent colour scheme. You can automatically ensure the photos you upload are appropriately branded by editing them all in the same way so your feed is consistent.
This can be done in a number of ways. You can choose a filter through Instagram or photo editing software that you should then use on all images before uploading onto your feed, for example. You could also use manual photo editing before uploading – my friend and former client Kim Burrows recently did an excellent guest blog about this very topic that you can check out HERE.
(Myself, I use VSCO on my clients' and my own photos, which I couldn't recommend more because there are just SO many different and unique filters to pick from that you can then personalise to suit you.)
You need to make sure your feed looks like YOUR feed. Once you settle on an edit you like, then stick with it and create your very own brand.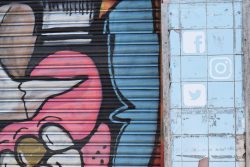 Pick your 'social five'
If you want to set the tone across your social media, I always advise you start by picking a 'social five'. By this, I mean you should identify five different kinds of posts that you think will appeal to your target audience whilst also keeping your feed varied.
For example, if I were a vintage shop located in East London my social five might be: 1. A photo of the product on the hanger 2. A shot of the product on a person 3. An image of the area (East London) 4. A vintage/retro shot 5. A photo of some of the staff. That way the personality of the shop is immediately obvious.
With each of these types of image, it's worth thinking about and noting down the tone you're going to use in the accompanying caption to make sure it's even more consistent.
So, get thinking about what your social five should be.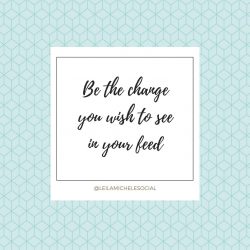 Cultivate your hashtags
Hashtags are so, so, so important on social media, in particular Instagram and Twitter. And I'll tell you now that they can make or break your brand's success.
On Twitter, engagement drops an average of 17% when you use more than two hashtags, so when posting on Twitter make sure you're using the two most relevant hashtags possible.
Instagram, on the other hand gives you a cap of thirty hashtags you can use. Remember, each of these hashtags is an opportunity to connect and reach out, to find a potential client, to make a sale, so load up with as many as you can. That being said, you need to make sure each hashtag is relevant and is reaching your community.
I'd advise having a look at the hashtags your target audience and the communities you're trying to connect with are using and what seems to be working for your competitors too. Make sure you're using these on your posts where relevant and follow hashtags you think will be particularly helpful at connecting with clients and communities.
I also always recommend clients come up with their own unique hashtag. Check out #socialinstokey (mine) and #pgpcommunity (one I've created for a client of mine). This way you've branded your content immediately and you can encourage your followers to use the hashtag when talking about your product. This means that when people search the hashtag they will find an array of images all to do with YOUR UNIQUE BRAND.
It also means you can leverage user-generated content for your own feed, which is brilliantly helpful because it's almost like free advertising! It is one of the best ways to grow your brand's awareness and produce more content whilst yourself creating less, all the while engaging with your community. You can do this by simply explaining to your followers that you may regram content they post with this hashtag on your company's page. Easy as.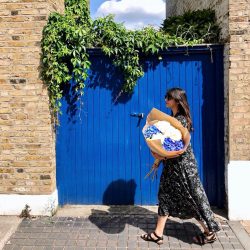 Branding is so, so crucial to creating your online presence and showing off your personality, so it really is something that is worth spending a long time thinking about and working towards.
Of course, it's also my favourite thing to do! Follow me on Instagram (@leilamichelesocial) for regular updates on what's new in the world of social media and advice and make sure you're checking out my weekly 'Tip Tuesday' stories.