While we're regularly bombarded with compelling social media campaigns from some of the world's largest companies, it would be a mistake to think that social media is only a big brand game. In fact, it's actually the perfect place for small businesses.
With social media, small brands can offer a glimpse into their personality and build personal relationships, meaning it's primed for them to create brand awareness, and ultimately drive revenue. A whopping 78% of small businesses use social media, with 44% of them claiming they depend on it to build awareness and 41% saying they need it to drive revenue.
Let's take a look at some of the (many) ways small businesses can use social media as their secret weapon.
Use reviews and recommendations to build your reputation
When you're a small business, your reputation can make or break you. Yet it's hard to establish, especially when you're just starting out. But even though you're not a household name (yet!) it doesn't mean you can't have a solid reputation and build trust in your brand. And social media is just the place to do this.
One easy and actually really effective way to do this is by utilising customer reviews and recommendations.
Today, the average person is reportedly bombarded with 3,000 brand messages on a daily basis. As a result, consumers struggle to identify what brands they should trust. You might know that your product is completely brilliant and life-changing, but just telling users that isn't enough.
Unsurprisingly, consumers are proven to trust each other more than brands: 70% of adults say they trust online reviews more than statements from brands. That means reviews and recommendations are your best friend when you're trying to build that winning reputation for your small business.
There are a few simple approaches you can take to using reviews on social.
Asking your customers to leave reviews on your social pages (Facebook in particular is primed for this) or on your Google page will immediately be effective at growing your reputation, as a first step.
Once you've got some good reviews, get sharing them! One thing I regularly do on my own and my client's social channels is use reviews for actual content. This can either be as a caption or, better yet, in the form of a shareable graphic (Canva will be a lifesaver for this) you use to regularly share positive feedback.
https://www.instagram.com/p/BtSp25-DyNp/
Of course, reviews aren't always going to be positive.
When it comes to building your small business' reputation, negative reviews are always going to throw a spanner in the works. But ignoring them is the worst thing you can do. Always respond to any negative feedback in a friendly and polite way (and ideally within 24 hours).
And don't beat yourself up: studies actually show that more than two-thirds of consumers trust reviews more when they are a mix of negative and positive.
Connect with the local community
You probably already realise that, as a small business, your local community is everything. And enthusiasm for local businesses is also on the rise, with people now spending between 40-55% of their total monthly budgets on local products and services.
Clearly, attracting local custom is going to pay off. And to do this, engaging with your local community is a must – and a great pleasure in my experience!
So, start using social media to engage with the community and local people. Check out their pages, like/comment on posts and follow their stories. If you show enthusiasm, you're likely to get it back, as well as building a reputation in the area.
Connecting with other local businesses is also a great use for social media. In that case, as well as visiting their page, it's worth visiting them in person and posting on social about your visit so you grab their attention. When you start building those relationships, you may come across opportunities to work together or cross-promote on each other's pages, growing both of your audiences!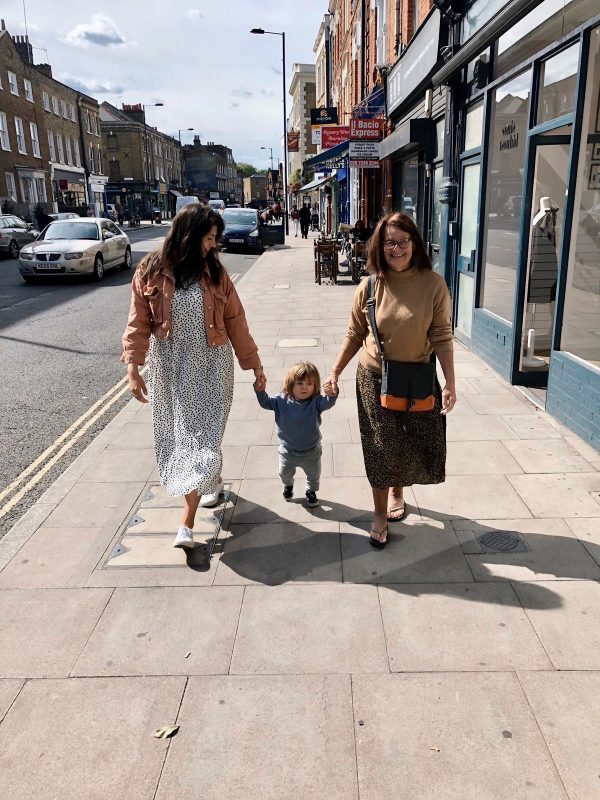 Use location
Tagging your location in posts helps people find you. It also helps attract out-of-town customers, since 66% of people use their smartphones to discover new local businesses or events when they're in a new area.
Show off your brand's personality
One of the things I love about working with small businesses is that they have personality in abundance. And the great thing is that, when it comes to social media, personality is currency.
Over the last few years, social media has fundamentally changed the way businesses advertise their services. The rise of the 'real' and influencer marketing has made people incredibly wary of direct advertising – and made them incredibly receptive to brand's that show off their personality. Coming across real and personable is now crucial to gaining consumer trust and loyalty: 79% of millennials and 84% of other generations say they prefer to use brands that let their personalities shine through.
Social media is the perfect excuse to show off exactly who you are – and what makes you different to the competition.
So, when you're coming up with your social media strategy, think hard about who you are and how you want to come across. Decide on a tone that is authentic to you and feels comfortable, think about the colours and filters that personify your brand, as well as the type of image. And coming up with a fun hashtag that embodies your brand is a great idea – this helps your community engage. (for some #inspo: check out #socialinstokey (mine) and #pgpcommunity (one I've created for a client of mine)
Check out a few of my tips on branding your small business on social media if you're not sure how to get your personality across.
Show off your team
Consumers also love to see the people who make up a small business and who make it what it is. So, get your team out – and get them on the 'gram. It will give you that personal touch immediately.
Tips for small businesses on social media
Getting started on social media can be daunting. So, I've outlined a few of my best social media 'hacks' to get you off to a flying start:
• Think about what channels will work for you: If you're running a small business, chances are you don't have time to spread your resources over all the social media channels out there. So, do some research and maybe just pick one or two that will work for you.
• Invest in video content: Video content has been proven to be the most engaging for social media posts. Check out my previous blog about video content for tips on how to get started.
• Repurpose content: If you've created a great piece of content, don't just use it once! Quotes from videos, articles and blogs make great captions for social media posts, to name just one example.
• Implement user-generated content: Encourage your followers to create content for you to re-use on your site using things like competitions. Read more about how to implement user-generated content.
• If you don't have time to keep your social updated, hire a Social Media Consultant: Drop me a line at info@leilamichele.com for more info.