Recently, I was asked to participate in Desk Life Project, a really exciting blog and community for creative entrepreneurs and freelancers who have broken free from the 9-5 shackles (hello, me!). Set up by Caitlin McAllister and written by a bunch of fabulous creatives, they are dedicated to bringing inspiration, advice and affordable resources to anyone starting their own business and pursuing a creative passion project. 
Read my full interview here:
Hi Leila! What is your background and how did you end up doing what you do now?
My social media journey began by chance, when I accepted the Twitter management role at American Express. This is where my passion for social media and marketing was born and when Twitter was only just making its mark. (I actually piloted the first UK Amex Twitter page, with tremendous amounts of positive feedback and success). After travelling the world and living in Australia for a couple of years I was brought back to the UK and working for Relais & Châteaux where my expertise in social media was called upon once again. I started to realise this was something I was not only good at but really enjoyed. It was then, working in such a small office that I dreamed up my idea of starting my own business, but it wasn't for another two years until that dream would become a reality, and here I am today!
You mentioned working with big brands such as American Express and Relais & Châteaux. How do you find working with large corporations versus working with smaller startups?
Touching again on my previous involvement in managing the accounts for large corporations, I wouldn't take those experiences away as it's made me realise my path and what I want to do. Where my passion lies though, is in inspiring and empowering small businesses. I'm a real people person and love to form a relationship and close bond with my clients, in order to truly champion them. I absolutely love that I might be able to make a small contribution toward their success!
What skills do you think it takes to work in social media?
Life moves fast and social media moves even faster so you need to be eager to learn and happy being kept on your toes in this ever-evolving industry. Here's just a few of the qualities I feel are necessary for the role:
Disciplined
Organised
Pro-active
Creative mindset
Tech-savvy
Forward thinking
Excellent communication skills, both online and offline, and both written and verbal
Pop culture awareness
Analytical skills
Storytelling ability
Multi-tasking ability
Leadership skills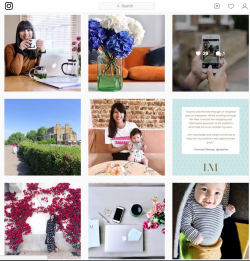 Where do you go to find out the latest social media updates?
Social media, duh? I try and follow relevant accounts like Instagram for business, other social media consultants, bloggers and news sites. I have sites like Mashable, Social Media Today and Digital Trends saved in my favourites.
Do you work with your clients remotely via phone calls/video chats, or do you prefer to meet in person?
Technically I work remotely, but as I mentioned earlier, I am a people person, so I also take any opportunity to meet up with clients in order to bounce ideas off each other. I am my most productive working alone at home but am my most creative when outside with others. I love the idea of working with local businesses as East London is such a great hub for independents. This allows me to utilise my knowledge of the area and get creative with my clients when it comes to photography, meet-ups and events.
What is your favourite type of project to work on?
A brand that gives me free-roam creatively and leaves me up to my own devices with a campaign.
Work life balance is so important to us at desk life project. Would you say you have a healthy balance in this area?
Well, currently my balance is all out of sorts, as I have just had a baby, but I intend to get back to a place of healthy work life balance once he's a bit older as this is something I do champion.
For anyone who wants to start a service-based business like you have, what is the main piece of advice you would share?
Love what you do, be consistent and persevere.
Check out Desk Life Project and the brilliant work they are doing here: http://www.desklifeproject.co.uk/