I had no idea how difficult it would be to work around a baby before I had a baby. I don't think anyone ever does. Now I'm speaking as a Mother of a 7 and a half month old, I feel I can talk with some clarity.
It feels like we are all searching for that seemingly unattainable work-life balance, but for the working Mum, can it really be achieved? I wouldn't say I'm there yet, but following the below points has definitely helped:
(I've looked at this from a business owners perspective, but these can be applied to those employed too.)
Love what you do
I'm hoping if you've chosen to go down the route of being a business owner, it's because you're doing something you're passionate about. It's very easy to get caught up being Mum and neglect yourself, but I've found because my job is something I love, I will always be drawn back to it.
What I try to do is fully immerse myself in whatever I'm doing. So, when I'm with the baby, I'm trying my best to not be thinking about work, then equally when I'm working, that's where my head needs to be at (apart from the odd email here and there oops). This leads on nicely to my next point about leaving the baby with people you trust. You really can't be fretting over how things are going with your little one when you're not around, otherwise s*#t won't get done.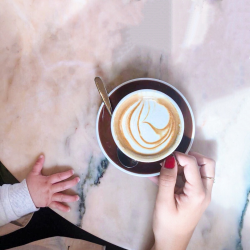 Have support you can trust and rely on
I thought I could work from home with the baby there every day and I could not have been more wrong. If you've cracked this, give me a call on 07835952188 with your secret will you? For me, having a good support network has been pivotal to the continued success of my business. From parents, to friends to assistants, thanks guys – I couldn't have done it without you!
On the subject of support, perhaps there an area of your business or home life you can outsource to make life easier?
Have a routine
When I learnt how to draw a line between work and home time was when my shoulders dropped from being in my ears to a normal position. You absolutely have to train yourself on how to switch off and take time to chill, to avoid the inevitable burn out. Not only that, but for me, it is important to give my time and attention to Ruben when he needs it and vice versa.
It's in the morning (after coffee) that I feel at my best and most productive. This is when I'll attempt to tackle those tricky tasks that I've been putting off. I'll then plan to breeze through any fluffier tasks by the afternoon/evening, when my attention span is depleting.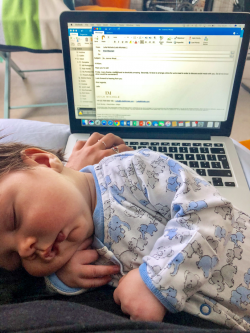 Be organised
Personally, getting organised the night before is key, as there are so many different layers of things that need to be done when you have a baby. If I'm faffing around in the morning, I don't feel I'm in the right head space for tackling work. Get systems in place and a schedule planned out!
Do what's right for YOU
What I've learnt more than anything since having a baby is that what is right for you, will not always be right for someone else. Does that make it wrong? No. The amount of conflicting advice I have gotten since being pregnant and now a mum is astounding, so at the end of the day, you have to do what's right for you. Remember – happy mum, happy baby!
It is now you're a mum, that have must learn to trust yourself more than ever, because suddenly we're the adults – how did that happen?
What I've found since being a mum, is that while I don't always have the capacity, I'm actually a lot more productive. This is because you learn how much you can cram into such a short space of time. You've aced it. So, you now bring that to your working life too. Pre-baby, this blog post would have usually been written over a few days, maybe weeks, with me coming back and forth to it, procrastinating over one thing or another. Today, I have popped into the library; put my phone on flight mode, written what's in my head and published to my website, all in one morning.
So, in a sense you have a lot less time, but, any time you do have is a precious unicorn, shiny, beautiful god send and therefore you use it wisely.